---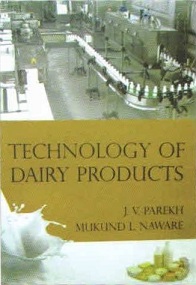 Wrote a book on "Technology of Dairy Products" published by IBDC Publishers, Lucknow with Dr. Mukund Naware in 2013. The book seeks to offer complete knowledge on various spheres of Dairy and Dairy products. It well serve as a valuable resource for entrepreneurs, students, researchers and scholars. The book covers pre establishment as well as post establishment processes and technicalities of Dairying.
Dr. Parekh has contributed many scientific and technical articles in Indian and International technical journals, and also presented many technical papers in National and International Symposia. Life member of Indian Dairy Association & Association of Food Scientists and Technologists of India. Member of the Australian Institute of Food Science and Association and many Indian Dairy and Food Journals. Travelled world wide for attending International Congress and Exhibitions in dairying and food processing.
Dr. Parekh has taken-up a World Bank assignment in Kosovo in 2001 on aseptic processing of Juice and Milk.
Dr. Parekh was associated with Genesis Fintec Ltd, Kolkata as Dairy Expert for the Pre-Investment Feasibility Study of the North Eastern Region for NEDFI, Guwahati in the year 2002.
Dr. Parekh was also associated with NABARD (National Agricultural Bank for Rural Development) to study The Techno Financial Viability of Dynamix Dairy Industries Ltd, Baramati in the year 2003.
Dr. Parekh has also conducted Feasibility study for Tanga Fresh Lt, Tanga, Tanzania and The Royal Dairy Products Ltd., Dar-e-Salam, Tanzania in 2004 and 2005 respectively.
Dr. Parekh has provided Turnkey Consultancy Service on dairy for FTK Foods Pvt. Ltd. (Akbarally Group) at Bhivandi in Maharashtra.
Dr. Parekh has prepared detailed Project Report on Whey based products for Amul Dairy Anand in 2008.
Roadmap for Dairy Development of Jharkhand State in 2008 and Preparation of the project report for West Bengal Co-op. Milk Producers Federation Ltd. Kolkata in 2009.
Dr. Parekh got Fellowship Award by Indian Dairy Association in February 2011. Dr. Parekh got Fellowship Award by Dairy Technology Society of India on 16th November, 2011.
Dr. Parekh was facilitated and honored for the Yoeman services rendered to Dairy Industry in the country by the Indian Dairy Engineering Association (IDEA) in Tirupati on 24th September 2012.
Dr. Parekh was awarded Dr. J. R. Patel Memorial Award for Dairy Professional for his outstanding contribution to the development and growth of the Dairy Industry by Dr. J. R. Patel Memorial Charitable Trust, Sheth M. C. College of Dairy Science, Anand, Gujarat on 2nd March 2013.
Dr. Parekh was a member of Export Inspection Agency (Ministry of Commerce) for assessment of milk processing plants in Maharashtra for export of milk and milk products.